Social Media Strategy for Law Firms
The biggest problem with law firms when managing their Social Media is creating engaging content and working to a Social Media strategy, the majority of law firms will play it safe and publish the same old content week after week. At Staxton, we want to break down these barriers, make a statement, and help you get engagement and promote your law firm's brand. This can be done through a number of methods, video, animation, and bespoke content.
We believe in creating unique and tailored content for every law firm we collaborate with. No copy and paste job here – everything is crafted just for you.
Let's kickstart your Social Media strategy by developing a strategic plan to help you achieve your goals. We'll work closely together to map out your strategy and curate compelling media content that captivates your audience.
Key elements of my social media management include as standard:
Organise, cooperate and arrange content for your various social platforms including Facebook, LinkedIn, LinkedIn Profiles, Twitter (X), Instagram, and Google My Business
Uncover trends and valuable information about your brand, when your audience is engaged, and what times to post
Receive monthly actionable reports that shed light on what's effective—and what's not. Including a detailed 1-2-1 review with me on additional marketing actions
Respond promptly to time-sensitive discussions that mention your brand. Know that your posts are getting a human reply to any comments including reviews.
Rest assured, all the content we create belongs to you. Our role is to provide the spark and inspiration you need to fuel your social media channels.
Client Feedback
"Our business has worked with Rich for 15 months now - and it's the best decision we've ever made. Firstly, his work is beautiful. He knows his stuff - and he really produces content that is perfect for us. Secondly, he's now firmly part of the team/work family. And the icing on the cake is that our social media engagement has gone through the roof.
That doesn't just mean more and more followers every month - it means more new client enquiries leading to more and more clients onboarding with us. Seriously - best work decision we've ever made!"
Sarah Keegan - The CS Partnership
"Rich takes time to understand his clients and produces some excellent quality work. We have really benefited from his expert advice and social media input. Absolute no brainer to let Staxton run your social media marketing"
Richard Mathias - National Search Service

"Jones Chase Employment Lawyers have been working with Staxton Digital for close to 2 years and they have completely transformed our marketing function. Working with Rich is an absolute pleasure and not only does Staxton Digital produce high-quality and wonderful looking content, they have an unwavering passion and commitment to doing a fantastic job for us. We cannot recommend them highly enough."
Dean Jones - Jones Chase Employment Lawyers
"Rich has been engaged with us at Best Solicitors now for 6 months, he's helping us reach (and surpass our KPIs) Rich is great to work with, he offers a wide range of creativity and ideas outside of the box to make our content really engaging. Nothing is ever too much trouble and he is on hand whenever we need him, we are able to contact him at short notice with ideas for extra content which he then creates and turns this around quickly. Rich has also offered our team training in LinkedIn and has put together amazing packages which our team found insightful and engaging. Would definitely recommend if you are looking for additional support/guidance/creativity in ensuring your social media marketing strategy hits its goals. Highly recommended"
Emma Thistlewhite - Best Solicitors

"We were really pleased with the digital work that he provided us to help us start up. He understands the industry, which was key for us and he was a start up as well so also understood the barriers that face a new entrant into the market. Very happy!"
Sarah Charlton - CEO, Legal Finance & Management Guru
Further reviews from my clients can be found here.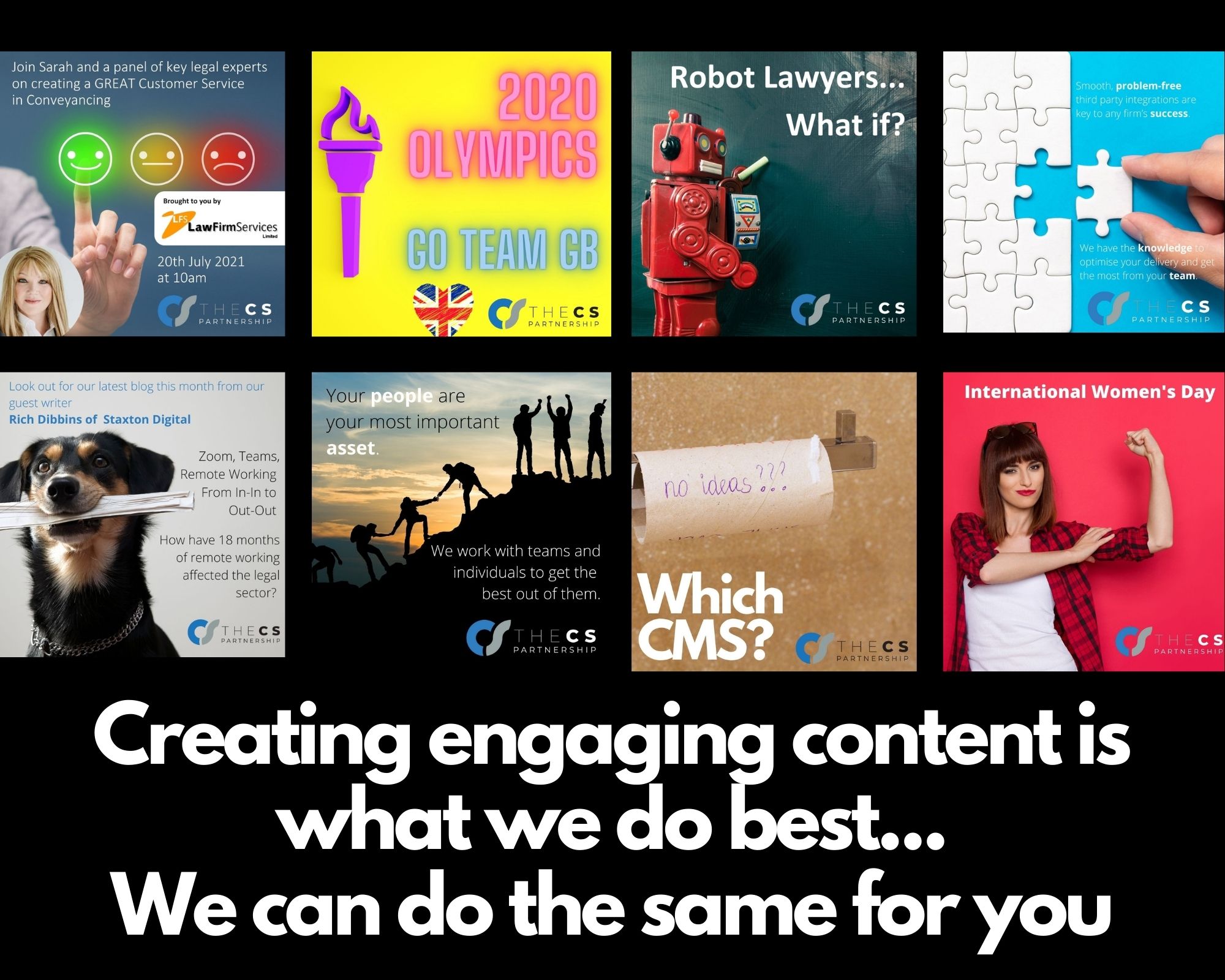 Why do I need a Social Media Strategy?

You wouldn't start a marathon without some preparation first. This is what we do in a Social Media Strategy, we cover core areas to help you get the most from Social Media. These include the following 5 core areas:

Review and Analysis of your current social media presence
Competitor Analysis
Target clients you are looking to attract and engage with your content
Road map of your strategy and with flexible KPIs
A workable document your in-house team can use that is non-technical

Will Social Media get me more clients?

Overtime yes, but you need to be patient. Most people fail with Social Media as they don't give it enough time or try to sell their services on every post they create. We help to create engaging content your clients will find value in.

How do I get my staff more engaged with our Social Media?

The first place to start is with your Social Media policy, what does it say they can / can't do? The next step would be to discuss with your team why they don't engage with the firm's social media. This can be down to time constraints but more commonly they lack the confidence in creating content. We help to coach individuals to use Social Media as part of the Business Development process.

What are the best Social Media management tools to use?

There are literally 100s of Social Media tools you can use to help manages your law firm's content. Here we list our top 5 favorite tools.

Canva – even the free version has some great features to create content.

Hootsuite

– They offer a free version for up to 3 profiles, the only downside there is no reporting included.
Buffer – Similar to Hootsuite this is free for up to a number of profiles

Sendible

– If you manage multiple accounts this works very well, including content hits and tips

Google Trends

– Want to know what is trending in the digital world or compare different legal services. Use this free Google tool.